As a manager, I'm always on the lookout for better tools to help increase my productivity.  I tend to be a visual person, and like to draw diagrams for everything.  When I came across Roadmap Planner from Keepsolid, it seemed like a simple tool that would allow be to quickly throw plans together.  Here are my first impressions with the tool:
Platforms Available:  macOS and iOS
Cost:  Free for 1 year, then pay options ranging from $0.99/month for personal plans all the way up to $9.99/month per user for professional plans.
Review:
For this review I tested the macOS version of the app.  If you click the link HERE you can download the application for mac or ios.  When you start the application you are greeted with a friendly welcome screen, which includes a video tour, links to a FAQ, and a contact for support.  It's clear that KeepSolid is targeting business users with this application, with their focus on quality and customer support.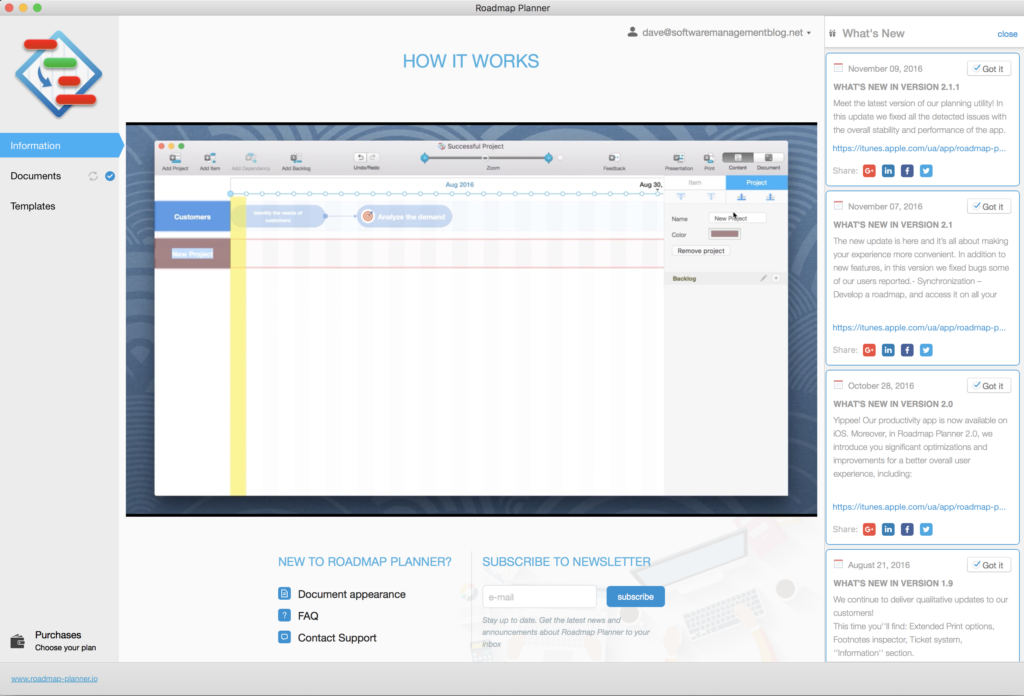 Roadmap Planner – Welcome Screen
Once you are in the app, there is a simple navigation bar on the left side of the screen.  From here you can load up one of your saved roadmaps, or create a new one from a template.  The roadmaps are all stored in the cloud, so you don't have to worry about keeping them in sync between devices.
My initial impression of the app is that it is a clean design.  The app is very simple and easy to use.  As I have been using the app, I've noticed that it is very responsive and robust as well.
Creating a roadmap couldn't be any simpler.  There are several templates to choose from (see screenshot below), or you can just start from scratch.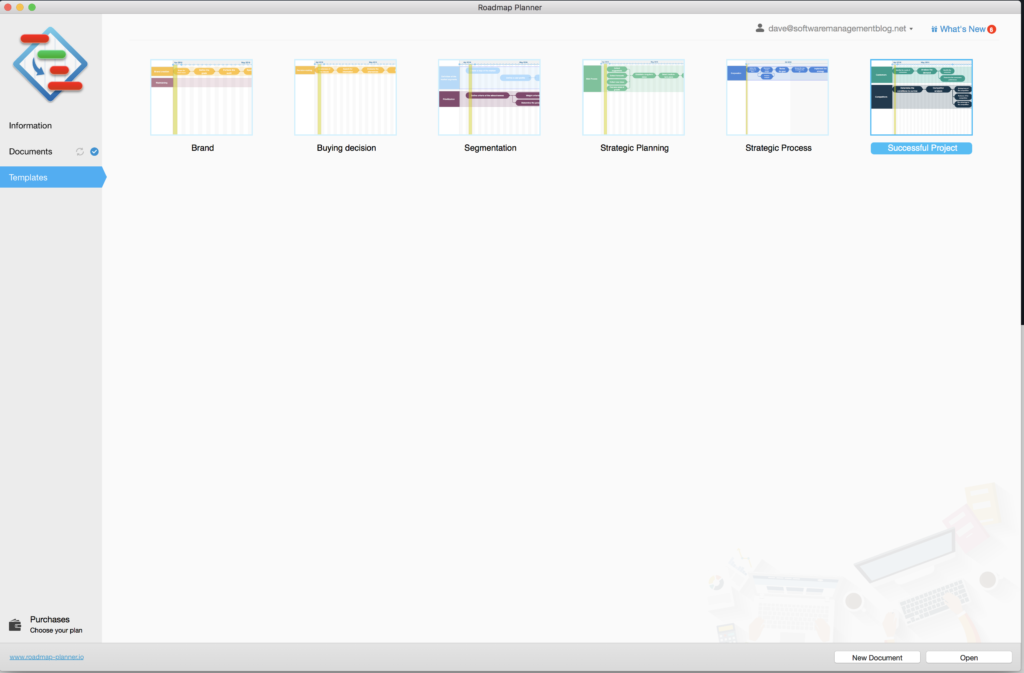 Roadmap Planner – Template View
The roadmaps support some fairly basic features, including multiple swim lanes with tasks and dependencies between those tasks.  Tasks can have a basic description, an icon, and notes.  The UI is very intuitive, and tasks can be easily manipulated and moved around on the screen.  Once you've created your roadmap there are several ways to use it, including a presentation view.  I've found this feature especially useful for displaying on a TV in the office.  Also, you can export your roadmap to PDF or an image.
Another great feature is the collaboration capability, which allows multiple users to edit the roadmap in real time.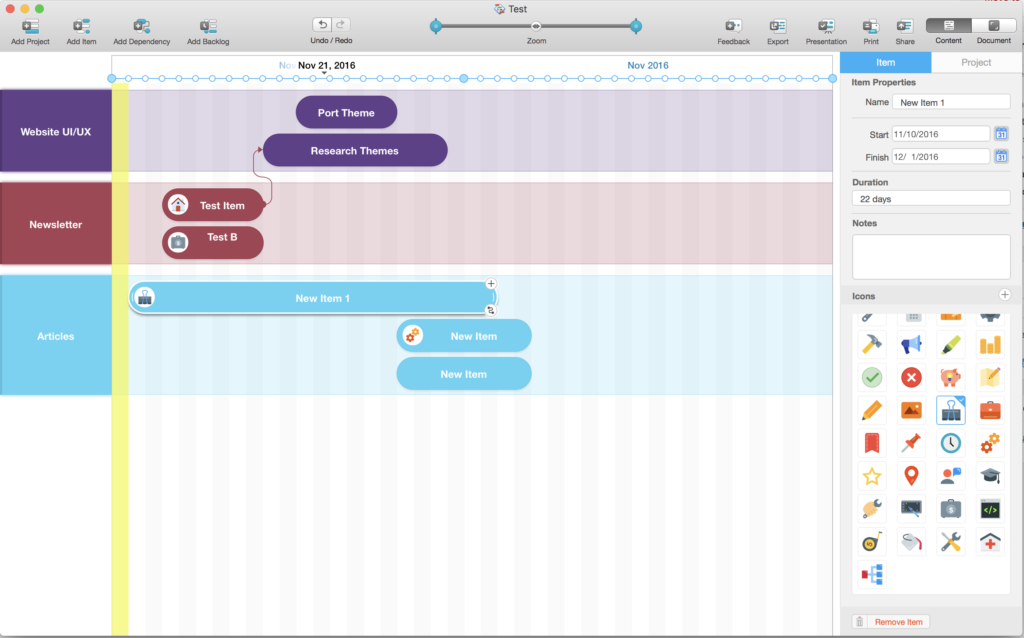 Roadmap Planner – Edit Screen
Overall Impression
Overall this is a great way to create a quick roadmap.  I found that it's a great improvement over visio and powerpoint, in that I don't have to worry about selecting, coloring, and aligning boxes, the tool takes care of all of that for me!  I'd say this tool is good for smaller projects, but may be too limited for complex ones.  Roadmaps are supposed to be high level and simple, so this tool will enforce that.
Some features that I felt were missing are:
No way to status tasks.  It would be great if there was a way to show percent complete, or have more complex colors in the bars to see what is in progress.
No additional markup, text, etc. allowed in the roadmap.  Sometimes I like to annotate the roadmap with text blocks, and this tool doesn't allow that.
Integrations.  There is no easy way to integrate the tool with other services.
The above drawbacks are only minor, and in general this tool performed flawlessly.  It would be great if I could easily export these roadmaps directly into Confluence.  Check out my suggestions for using confluence which included use of their built in roadmap feature HERE.
For more information on the Roadmap Planner, check out their website here.  What tools do you use to manage your product and technology roadmaps?